The music service Spotify has been launched in Russia. "Billboard Daily" crawled it up and down to collect the most useful and non-obvious functions.
Where to find Discover Weekly
Spotify's most famous product is Discover Weekly's weekly recommendation playlist, which is renowned for its precise algorithms and selections. The playlist does not appear immediately, but on Mondays, in order for the application to compose it, you need to listen to the music you are interested in. The playlist will appear on the Home screen in Personal Collections and in Search in Recommendations. In the Russian version it is called "Discovery of the week".
Sleep timer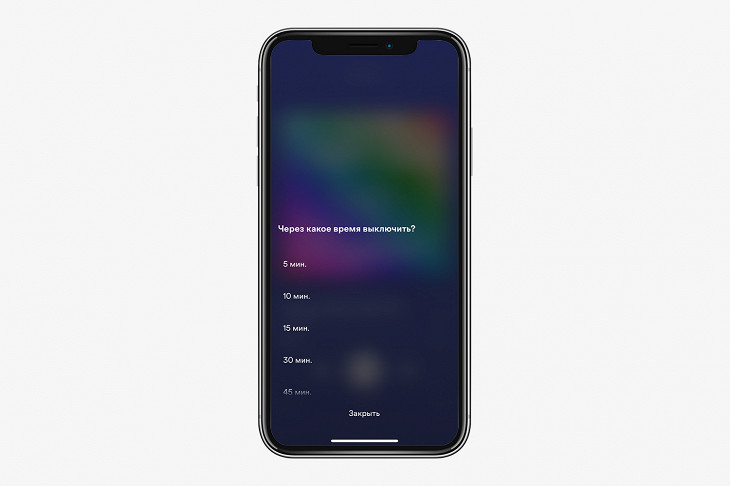 Five years ago, the fastest growing category on Spotify was music for sleep and relaxation – then 280 albums with relaxing ambient were uploaded to the service per week. In 2017, there was even a conspiracy theory that the company itself publishes hundreds of albums with piano music from unknown authors and millions of listens.
Spotify is really handy for listening to music when you fall asleep. For example, you can set a timer that will stop playback after you fall asleep. There are timers ranging from five minutes to an hour. Thanks to them, you will not have to wake up in the middle of the night from unexpected sounds from your phone.How to do itClick on the three dots on the player with the current song, scroll to the very bottom and select "Sleep Timer"
Endless playlist
By default, Spotify has an infinite playlist: that is, after the current album or playlist is completed, the service itself will offer about 20 tracks similar to the ones you just listened to. Some people like endless playlists, but sometimes it's inconvenient – for example, if you want to know for sure that the album has already ended and you can move on to another. For the second case, the endless playlist can be disabled.How to do it"Settings" – "Playback" – turn off the switch "Music non-stop"
Musicians playlists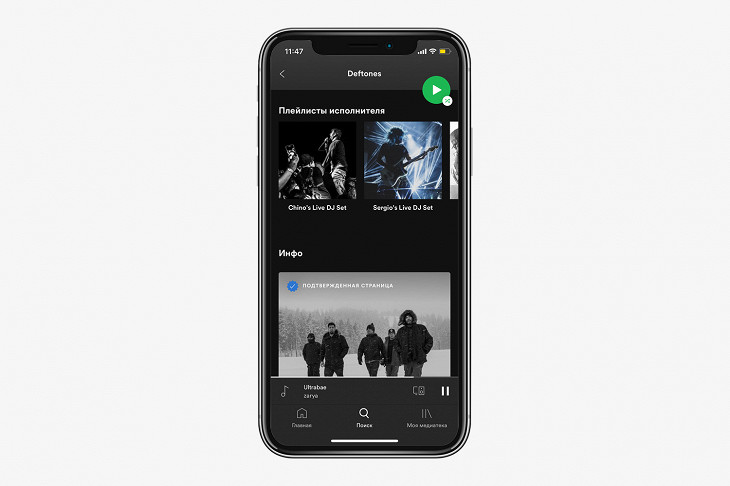 On the pages of popular musicians, you can find not only their music, but also playlists that they have collected for fans or some events. For example, Deftones' profile has a playlist for vocalist Chino Moreno , which he played on a twitch stream, and singer Carly Rae Jepsen has a playlist titled "Happy Valentine's, bitches" . Look for collections of songs from musicians at the very bottom of the screen.
Secret track switch
In Apple Music or VKontakte applications, the track can be switched with a button on a narrow strip, into which the player is minimized. Spotify doesn't have this, so the track is switched either in a full-size player or in a secret way. To do this, swipe the minimized player to the right or left – the track will switch.
Anonymous mode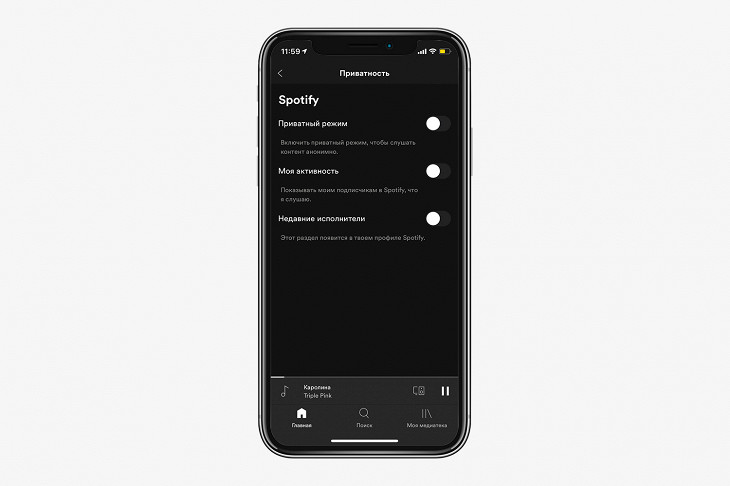 After registering with Spotify, you will be presented with your profile, which displays your collected playlists and recently listened artists by default. If you don't want your friends to watch what you are listening to, then go to private mode.How to do it"Settings" – "Privacy" – "Private mode"
Playlist recommendations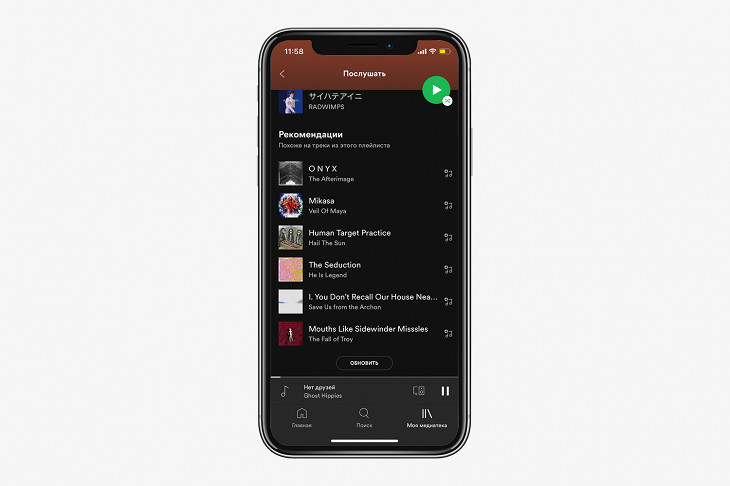 Spotify recommends music based on your listens, but also based on individual playlists. For example, you can create a playlist with new metal core and another with Japanese pop music. Recommendations for each will be different. To view them, go to the playlist in your library and scroll to the bottom. The service recommends six tracks each, but the list can be updated.
Subtle transitions between songs
Any playlist in Spotify can be turned into a kind of mix, where the transitions between different tracks are almost invisible spotify lightsaber hack. The most interesting thing is to do this in a playlist with completely dissimilar performers. For example, the mixing of any hard Slipknot track and the beginning of the song "Ponponpon" by Japanese singer Kyari Pyamu Pyamu looks especially good .How to do it"Settings" – "Playback" and set the smooth transition to the "12 seconds" mark
Equalizer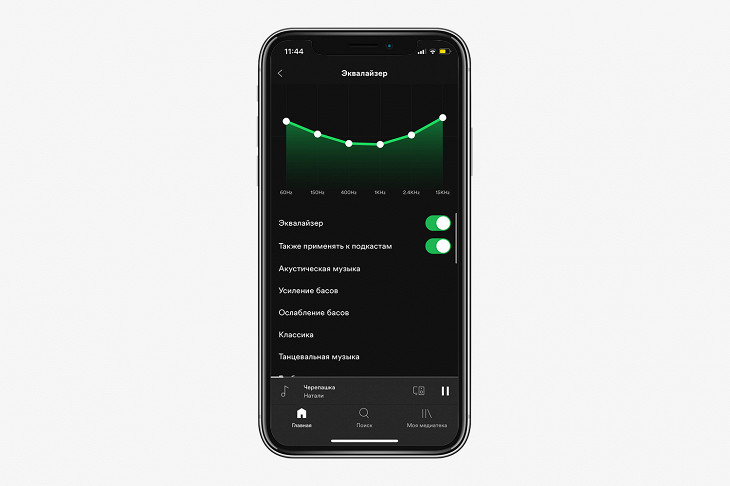 A rare instrument for modern streaming, it adjusts the frequencies of the outgoing sound to enhance the low or high frequencies. The tracks sound especially good on the "Electronics" and "Rock" presets.How to do it"Settings" – "Playback" – "Equalizer"
Switch between phone and computer
The service synchronizes music playback between different devices. For example, if you listened to music on your phone and then came home and logged into the desktop version of Spotify, then it can continue the song from the same place. To do this, you just need to press the play button.
Nostalgic playlists by year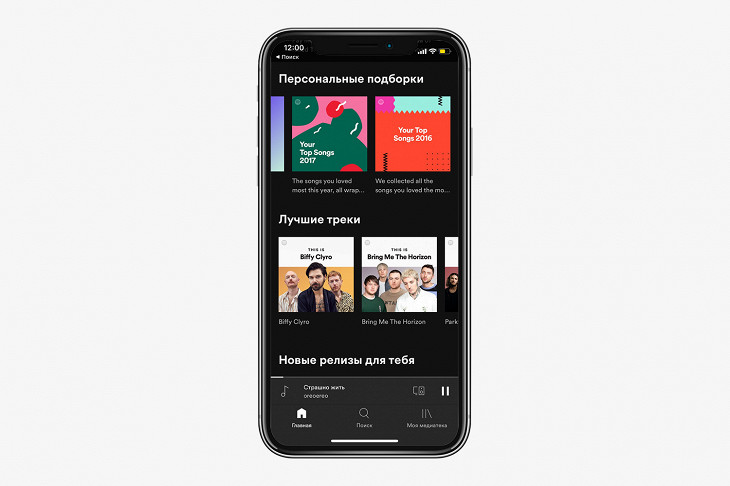 Feature for old people who started a Spotify account a few years ago, but then abandoned it due to VPN difficulties. On the main page of the application – in the "Personal selections" block – you can find huge playlists (they last six and a half hours) with the most listened to tracks by year. Nostalgia for the evening is guaranteed.